Our Musical Director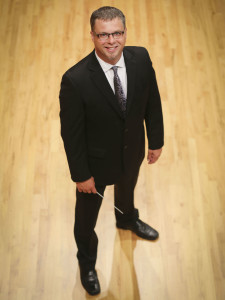 Brian C. Mast is a conductor, music educator and arts administrator. Brian's interest in music began at age 7 after attending a performance of Fiddler on the Roof. Enthralled by the fiddler, he began taking violin lessons, which he continued through college adding other instruments along the way.
Brian enjoys many different connections to the arts in Elkhart County. As an arts administrator, Brian serves as the Executive Director of the Goshen College Music Center, where he oversees operations, the Community School of the Arts, and books programming in the facility. As a music educator, Brian has taught at Bethany Christian Schools, Goshen High School and Concord High School. Additionally, he served as interim conductor of the Goshen College Orchestra and Brass ensemble for the 2007-2008 season. As a community arts advocate, Brian has served on the board of Goshen Theater, Inc., and has served as Music Director and Conductor of the Maple City Chamber Orchestra since 2002. He also has enjoyed collaborations with other community organizations such as the Elkhart Civic Theater and the Goshen Community Chorale.
Brian holds a BA in Music and Education from Bethel College in North Newton, Kansas, and an MM in orchestral conducting from Western Michigan University in Kalamazoo, MI. At Western Michigan University, Brian served as the assistant conductor of the University Symphony Orchestra, under the direction of Bruce Uchimura. Brian was also the founder and conductor of the University Chamber Strings. Brian has performed with both the Goshen College Orchestra and Wind Ensemble, as well as in pit orchestras for several GC operas. Brian has studied conducting with Bruce Uchimura, James Bass, and Michael Esselstrom.
One of Brian's favorite things to do is work with musical theater. He has collaborated with the Elkhart Civic Theater, serving as conductor for their musical productions of Annie, Beauty and the Beast, Seussical, and Footloose!. While at Bethany, he directed and conducted the musicals Godspell, Fiddler on the Roof and Joseph and the Amazing Technicolor Dreamcoat, and co-directed You're a Good Man, Charlie Brown.
Brian lives in Goshen with his wife, Cheryl, and their three children, Mackenzie, Tristan and Tobias, and Sketch, the dog.